This morning we have another lovely wedding from South Africa courtesy of
Nikki Meyer
- one of my favourite photographers to feature so sit back and be prepared for your fill of eye candy!! Jaco and Nicolette were married in the Garden Route where their familes are from and where they grew up prior to moving to London. I'm loving the soft yellow they've incorporated amongst the pink which they've managed to keep from looking overly saccharine. Nikki once again you've outdone yourself with the photos... they're just stunning. These two have such a sweet lovely story and Nicolette has some great advise for brides to be if you keep reading.
How did you meet?
Jaco and I met the very first day of class at Stellenbosch University. We were introduced by a mutual friend and seem to end up sitting next to each other every day in class. Jaco invited me one evening to 'study' at his house. Well after a couple of bottles of wine and a few late nights we weren't any wiser however we did become really good friends. It was only 6 months later that we realised there was something special between us and we've been together ever since. I really believe our early friendship was and is the basis of our relationship.
Tell us about your proposal:
We moved to London after varsity and have lived here for 3 years now. We've travelled quite a bit here in Europe so when Jaco surprised me with a weekend away to the Alsace wine region in France I was super excited!!! He called my boss and organised for me to have the Friday off and just presented me the evening before we left with an email from my boss telling us to enjoy the weekend. After getting over the fact that he spoke to my boss behind my back ;-) I was ordered to pack my things and switch off my phone. Jaco already called my parents that day and ask for their permission to marry me. He was so scared they might call me and give something away. He organised everything, flights, hotel, trains, car hire everything. I was kind of suspicious when Jaco didn't say his usual 'Don't worry I'm not going to ask you to marry me' which he always used to say when he did something special or romantic for me. But I just went along with the plan. We had a great day in the Alsace and late in the afternoon we went for a stroll in the vineyards. It was an absolute stunning scene, looking over this little town and sitting in between the vineyards (perfect for a proposal I thought ;-)), but nothing happened, so we decided to walk back down again. It was so funny, we just walked in silence, feeling a bit awkward ;-) however Jaco fell behind a little bit and when I turned around to look for him, he was down on one knee and my heart just melted. (I did silently tell myself to focus as this only happens once and I wanted to remember every single second) He then asked me to be his wife. It was magical. I have that image printed in my head and I'll never forget what we felt in that special moment.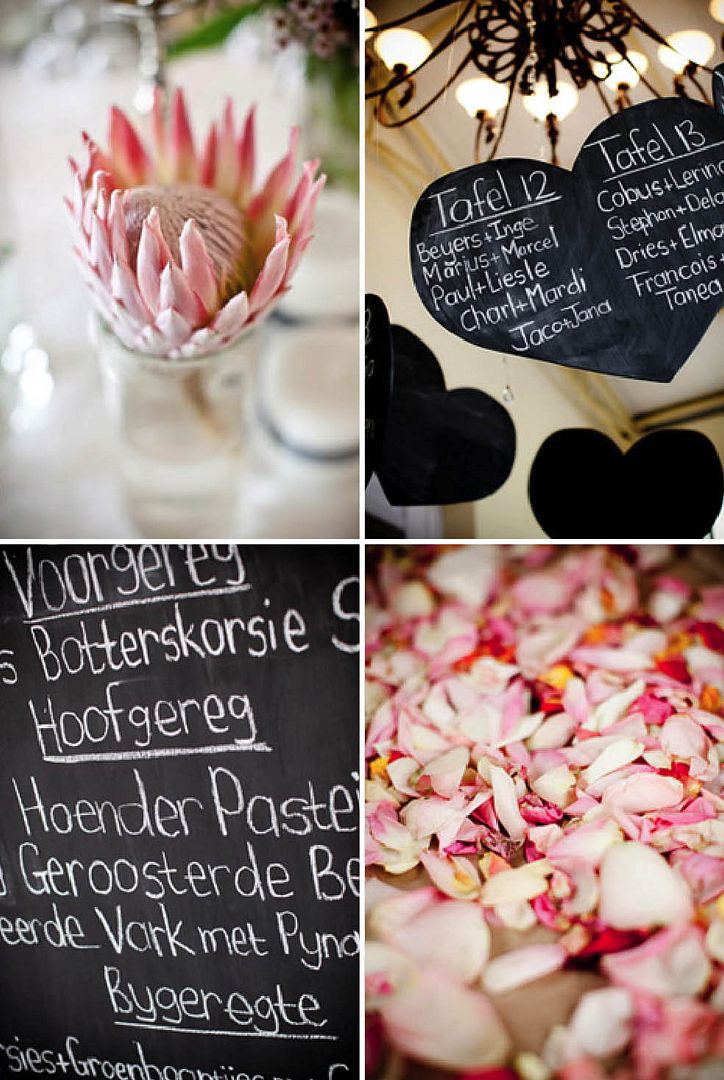 Tell us about finding your wedding dress:
As we decided to get married in South Africa I decided it was just going to be easier to do my dress in London as I wouldn't have time to go to South Africa and have it made there.
My best friend and bridesmaid organised a surprise trip to a wedding dress shop, Teokath in London. Trying on dresses just made it all more real. My dress was about the 3rd one I tried on. I was still in the fitting room, when I told my friend; I think this is the one. I came out and we both absolutely fell in love with the dress. It is from the designer Manual Mota and the dresses are made in Barcelona and shipped to London to all the happy and waiting brides. As I have quite a small frame I couldn't wear a big and heavy dress as the dress was wearing me and not the other way around ;-) But THIS dress was light and airy and easy to move in and it was just gorgeous! I absolutely loved loved my dress. Most brides say you get a feeling when you know you've found the right dress and I am so happy I FELT it.
What was the inspiration for your wedding?
As we are a couple who doesn't take ourselves too seriously we wanted to reflect that in the day. We wanted a fun and happy day to celebrate with our friends and family. Both our parents live in the Garden Route in South Africa and we grew up in the area, so there was no question as to where we would get married. The scenery is some of the most beautiful in South Africa and I think that reflects in our photos with the green farmlands, grey mountains and cows ;-) as a back drop. We were also very lucky that our venue was on a farm itself and the beautiful chapel was on the grounds too, so our guest did not have to travel to the reception. Everything was together.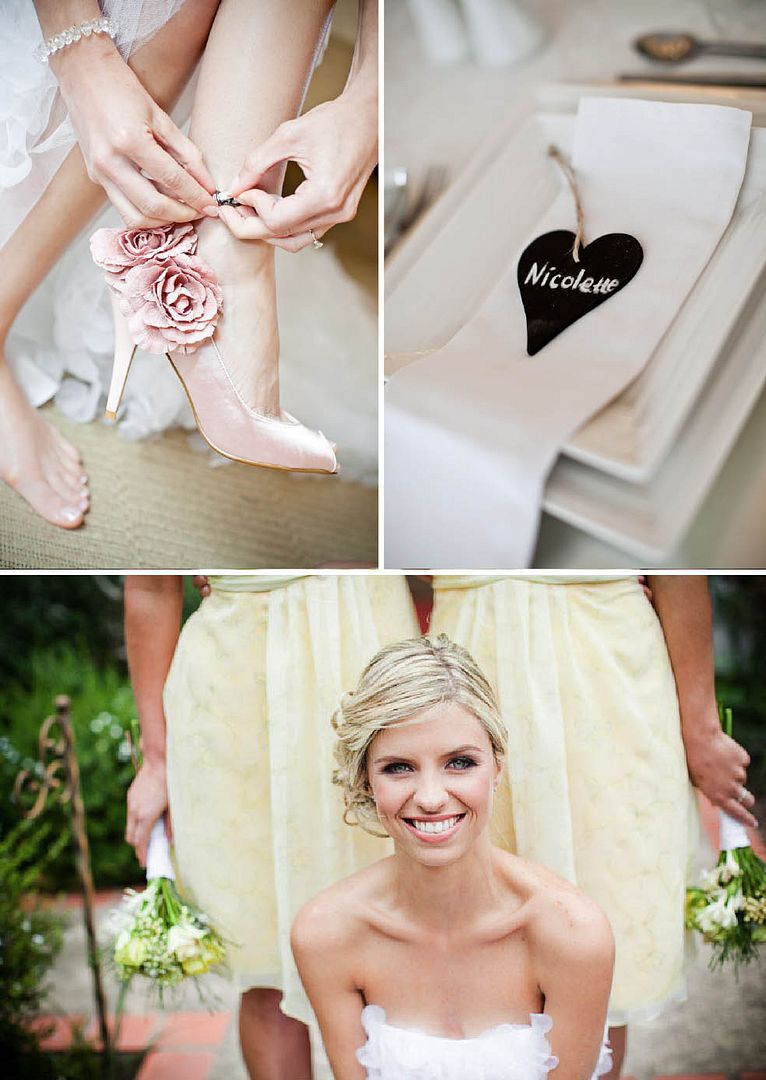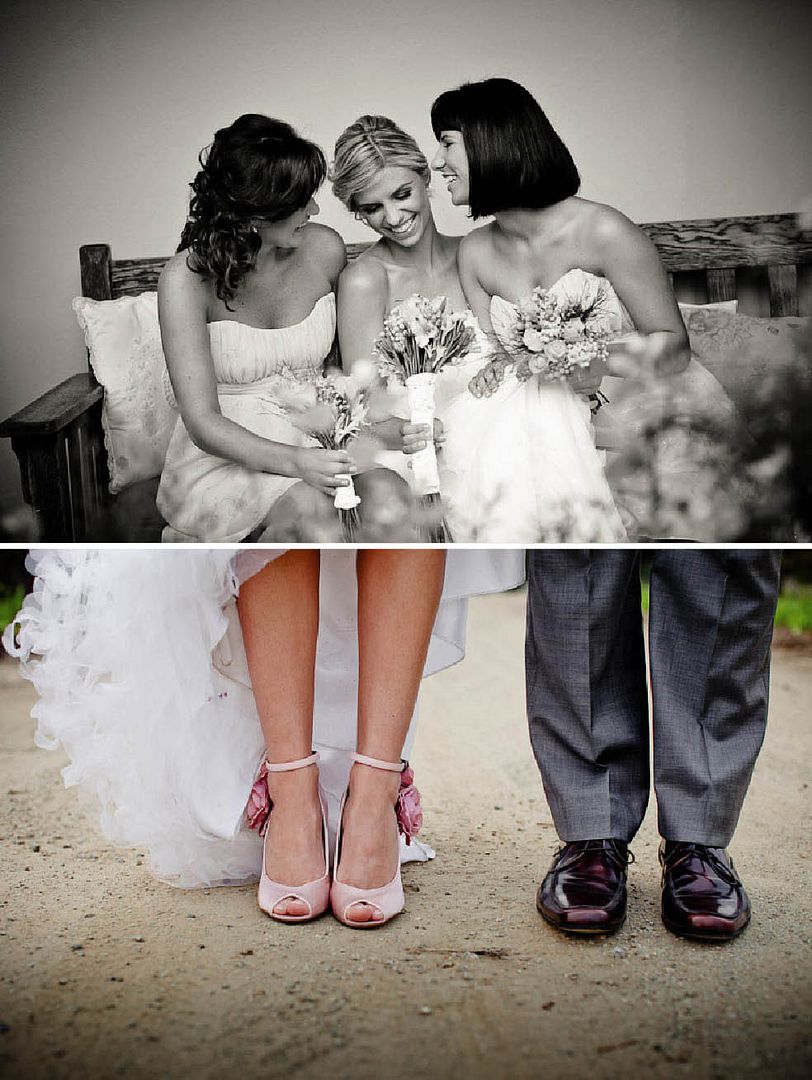 Any DIY/Budget elements?
When we started planning our wedding both our parents gave us a very generous fixed amount for the wedding and everything over and above that we had to cover ourselves. With that in mind I started making a list of everything that needed to be done and the budget for each item. I went to South Africa for 1 week to organise everything and with that budget I went to every supplier and said what my maximum was and what we can do for that amount. Offcourse there were unforseen costs but then I also over estimated on others, so as soon as I knew I had a little extra to play with I decided what I could with the money left over. That's how we got to afford a string trio to play at the church and cocktail hour. I am quite an Excel junkie so I always kept my numbers and spreadsheet close by and must say that I kept to the budget. (Except for the dress….you can't choose the one you fell in love with ;-)) I will advice to always keep a back up, as there's always an unexpected cost somewhere.
Describe your wedding flowers:
I always loved yellow as it's such a happy colour and just makes you think of summer. So I really wanted to have yellow somewhere in the wedding but not that you would think the sun came to set at our wedding ;-) So we had soft yellow, pale pink and white roses as well as the gorgeous King Protea and some wild flowers. It complimented the venue beautifully as it was a light and airy venue and it worked well with the white draping.
Favourite detail of the day:
Our service was very short and therefore we had plenty of time to do the photos but it did make us a bit early for the reception. However we went in to be seated and decided to go around to everyone's tables before dinner and say a quick hello etc. I felt this was a really special (but completely unplanned) time for us as we really got to chat to every single guest at the wedding, and didn't miss anyone for example if we were busy talking to somebody else or dancing etc.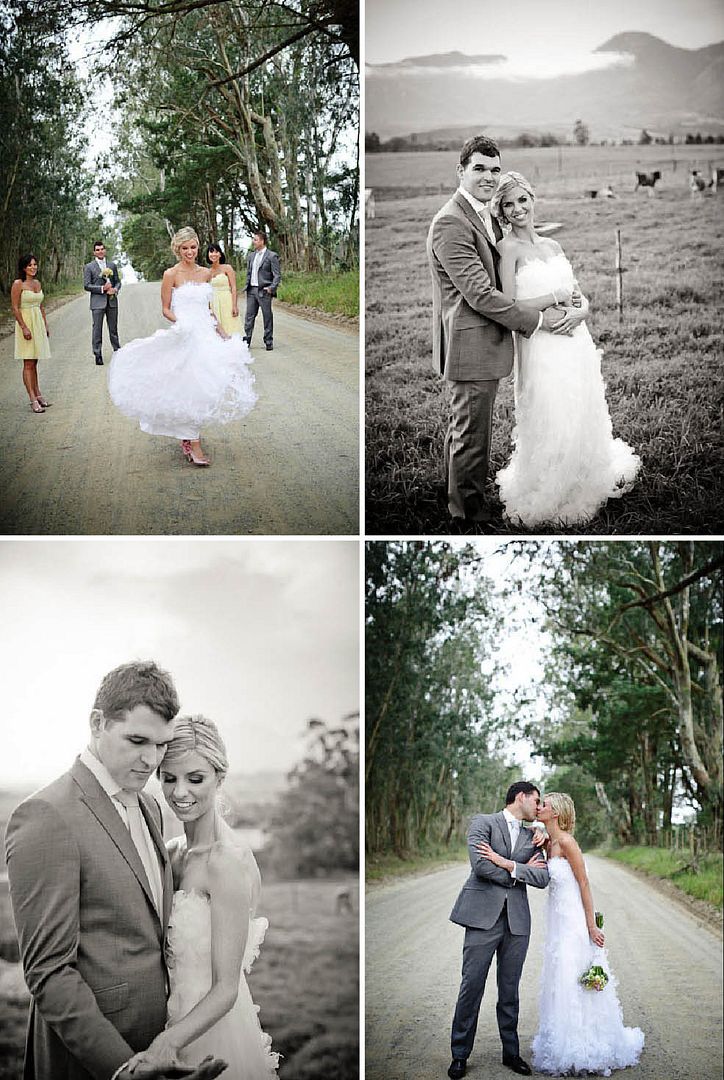 What advise would you give out to someone planning their wedding?
I think the first tip would be to always remember what it is really about. And that is marrying your husband. At the end of the day everything can go wrong as long as you, your husband and a priest is there, that is all that matters. I, like every other girl, have always dreamt of the big day and how it will be and look like etc, however when we started planning the wedding I just asked Jaco to keep me grounded and to remind me what we are doing if I start stressing and becoming too obsessed with everything. The moment you realise again what it's all about the little problems and issues become irrelevant.
Friends of ours also gave us advice to hold hands throughout the day and be together. It often happens that the brides go off dancing with the girls and the guys go to the bar with the groom and before you know it the evening is over and you weren't really together to experience it with each other. We spent the whole evening together, we danced together and we went to the bar together and we got around to everyone and what can be better than to hold on to your new husband's hand!
Most memorable moment?
The most memorable moment for both of us was when the church doors opened and we laid eyes on each other. I was so excited to see Jaco however I had a calm feeling walking down the isle to my soon-to-be-husband. One of satisfaction and happiness and knowing we are ready for marriage and building a life together. It is one of the proudest moments of my life, marrying the love of my life.