I have to admit that I've never been a huge fan of the convertible dress however today's wedding has just changed my opinion on that (and given me the longest post title ever)!! Marike's dress looks so adorable once she 'drops her skirt' and so incredibly wearable for the future... which is just plain smart in my books! Head to the bottom of the post to see what I'm talking about.
Nikki Meyer
captured these gorgeous photos of Marike & André's wedding at
Kleinevalleij
just outside of Capetown, South Africa. Doesn't she just make the most gorgeous of brides... and those shoes are totally adorable. There would be no sore feet in those! Marike kindly gives us some details about their special day...
We both love fishing, and organised a deep see fishing trip, especially since my dad had never gone out to the deep sea for fishing. On the day of the trip my dad and uncle phoned with various excuses that they wont be able to join… I did not have a lot of sleep, so I also wanted to cancel, but my boyfriend (Andre) said everything was already paid, and it was such a beautiful day, so why not use it. The two skippers and the two of us set out for deep sea near Cape Point. No fish was caught at any time…. Once he gained enough courage Andre pushed the box containing the ring between the bait. The idea was for me to see the little red box and freak out, instead I was so determined by this time to catch some fish that I just grabbed the bait, without really looking into the box…..
While I was applying the bait to the hook, Andre went down on his knees besides me… I thought he could be sea sick, until he started saying: "Marike Jeanette van der Linde, would you be my wife….?" I was completely shocked!!!!
It is wonderful how he took one of our favourite activities and made the day so memorable and unique. I would never have imagined it to go down that way! Needless to say, there was no fishing activities during the rest of the trip back to the harbour. Jelly knees and fast heartbeat, aching cheeks (from all the smiling) was some of the feelings I will never forget. He really planned it all so well, and I will always be thankful for the beautiful it happened.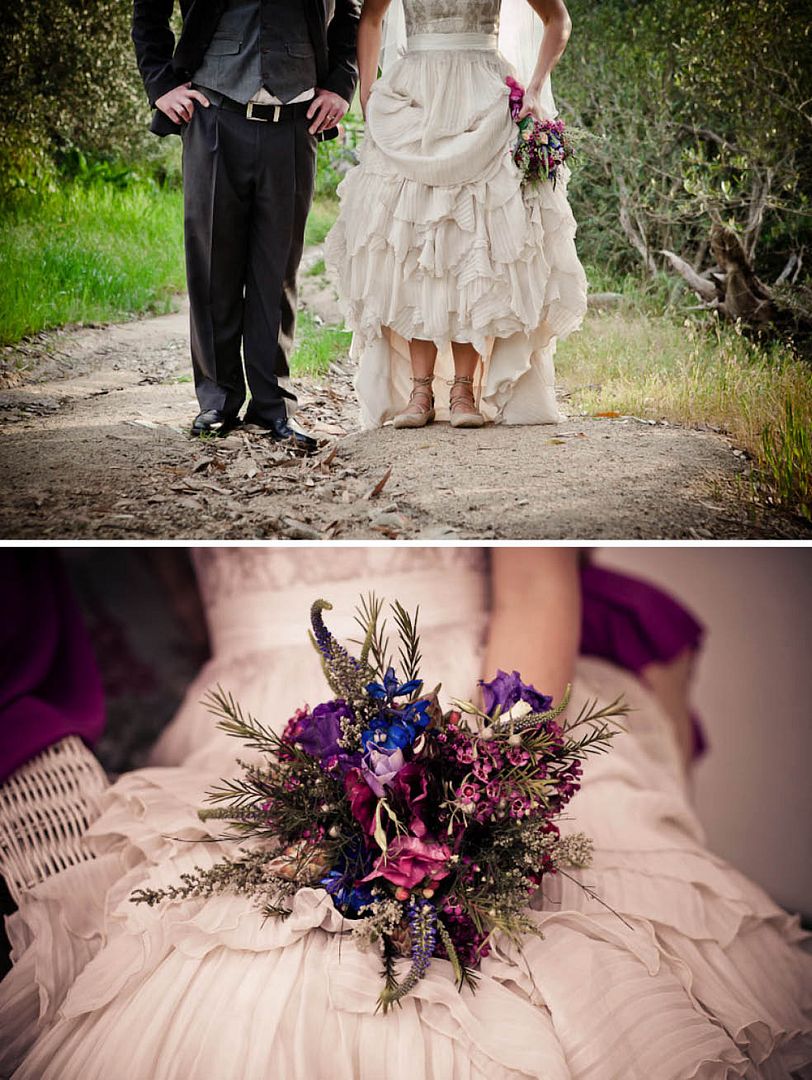 What was the inspiration for your wedding?
Since the venue is incredibly white, you can make anything of it, like an empty pallet. I did not want the white and silver look at all, but rather a warm and joyous look, therefore all the colour and rough elements added. I tried to bring in a lot of birds…. even had some made from beads from a street merchant.
DIY/Budget elements?
Most of it done by ourselves, it is amazing how your family and friends make themselves available in the strangest ways. I am especially fortunate with having a great talented friend that offered to do the stationery as part of wedding gift to us! A friend's mother also offered to do the flower arrangements, and she knows me quite well and exceeded all expectation I had on the flower décor!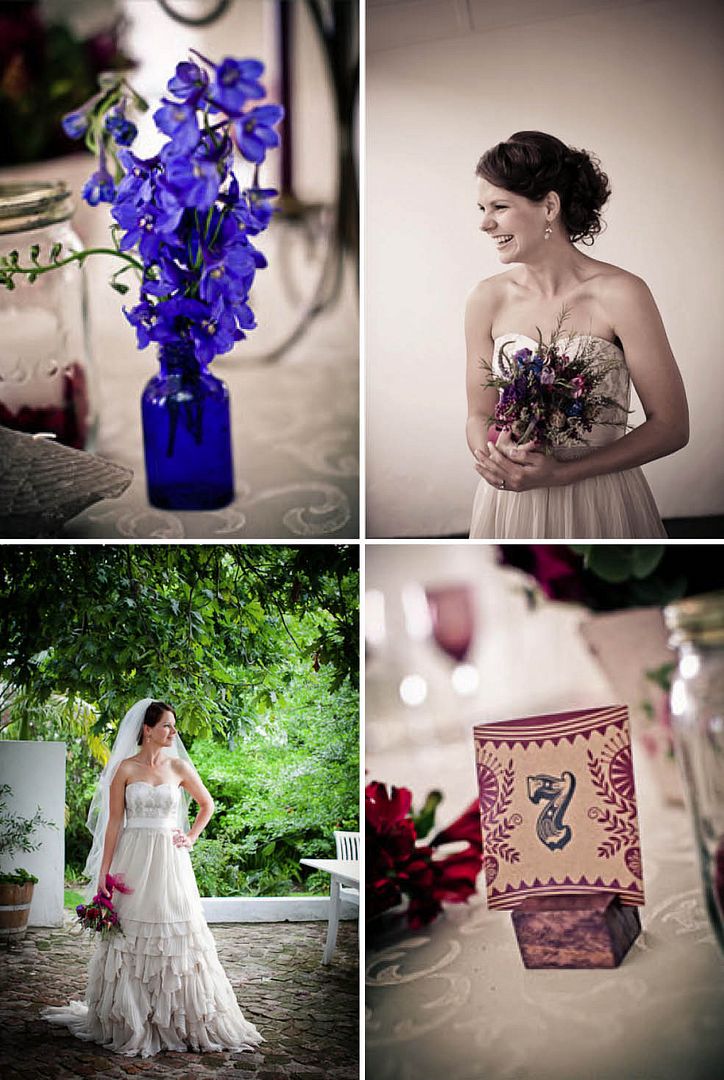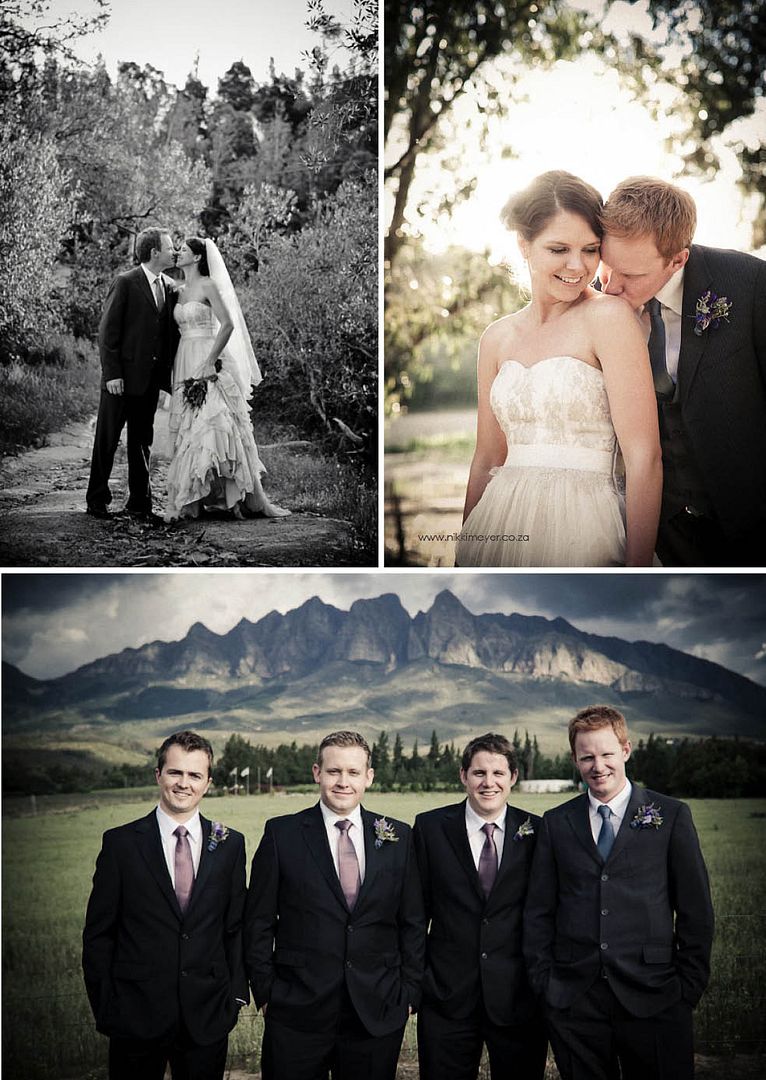 Most memorable moment?
During my husband's speech he went down on his knees again, and asked me a second time if I would be his forever, I was smiling and crying at the same time.
Anything other details that help tell the story of your day?
We wrapped small brass bells around the serviettes, the guests had to ring these with every toast, and plenty people also tied it to their wrists, ringing was heard the whole night through.
What advise would you give out to someone planning their wedding?
Don't fear the financial implications when planning a wedding, there are MANY ways to to save money! People offer to help, so don't be shy to use it!
The fact that we were moving in together into our new house after the wedding meant I had to decide on décor… So most of the décor I bought for the wedding was also to be used in the house…. Scatter cushions, lanterns, flowerpots, glass vases etc.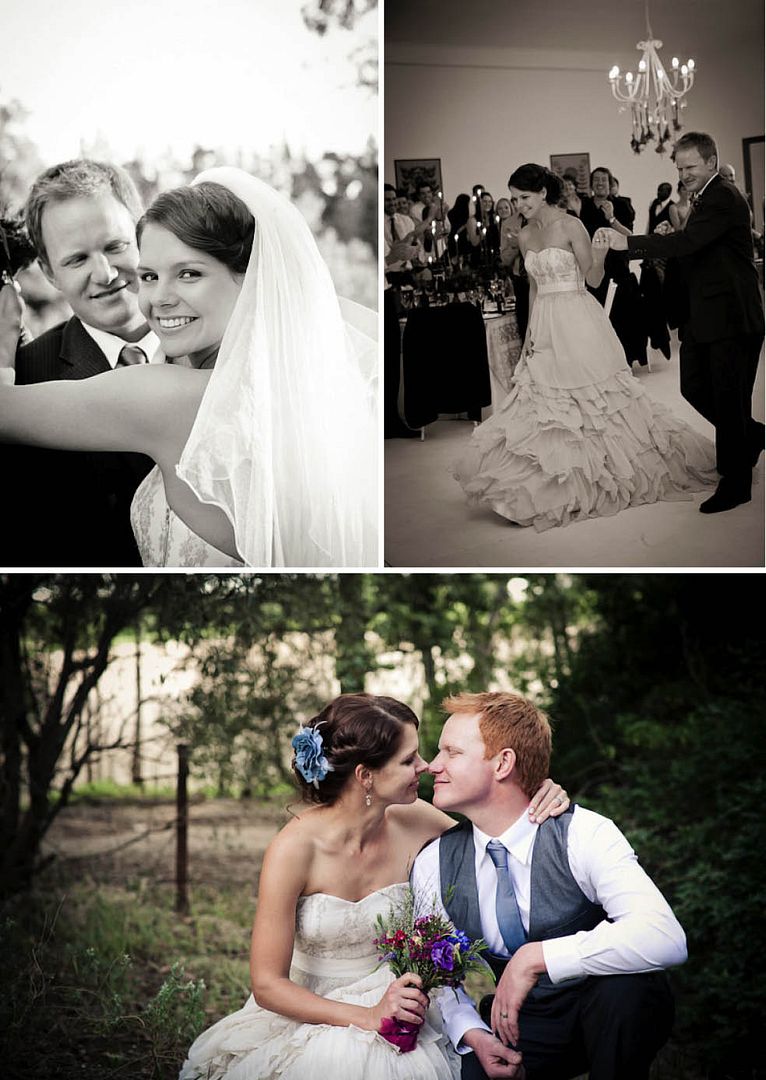 I just could not get myself to pay a ridiculous amount for a dress that is only worn once, so the idea to transform was there from the beginning, also to play a trick on my soon to be husband…. The dress was made by a young lady who at first thought that my idea to drop the bottom half was a bit crazy, but as the dress was being completed, she also got excited about the trick. The dress was flowy and so easy to "BE IN'. not uncomfortable at all. I also had extra straps made, in case the dancing got rough, so I could put it in whenever I wanted, also preventing me form having to pull the dress up all the time.
When he took the garter off with his mouth, I unbuttoned the lower half, held it by the signs (enabled by loops), and simply let it drop.
There were gasps all over, and the look on my Husband's face was hilarious! The rest of the evening I was in a beautiful cocktail dress, dancing the night away!