Twine - tick. Kraft paper - tick. Handpicked bouquets - tick. Waiheke Island wedding - tick. Gorgeous couple - tick, tick!! Yep, today's gorgeous wedding at
The Estate
sent over by the lovely
Emma Hughes
ticks so many boxes for me. Emma had this to say about Ingrid & Shaun... "
a fun, loving couple who were up for a laugh. Big smiles, big hearts and great fun to photograph
". And if the following proposal story is anything to go by there's a whole lot of romance thrown in there too...
Says Ingrid
... Shaun always cringes when I tell the story, but he was a real romantic. One of my favourite movies is Love Actually, especially the scene where the best friend stands on the doorstep with picture cards confessing his love for Keira Knightleys' character.
Shaun had called and asked my parents, and while we were on holiday in Bali, on a spot of beach where no one was around, he gave me my own set of picture cards, with lots of different photos, including one of my parents giving the thumbs up and the last one asking me to marry him and when I looked up he was on bended knee.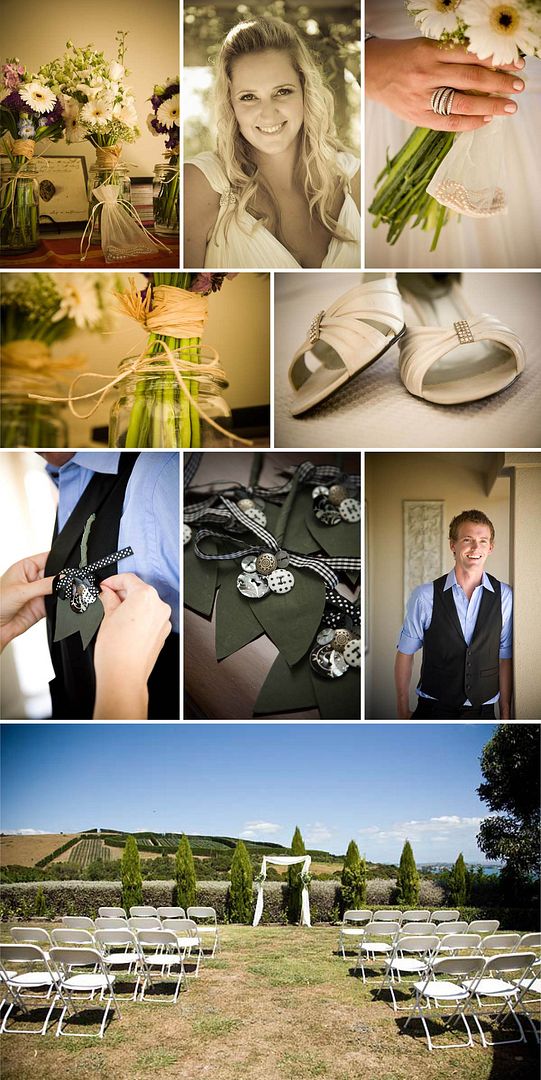 I spotted my wedding dress on a TV commercial, and knowing that there would be some other neurotic bride out there I trawled through the TV station blogs till I found out who made the dress.
I tried on many dresses, and made sure it was the last one, and it was the right one.
My parents lived in NZ and I was in Sydney, so it was my secret and it was one of my favourite moments of the day walking out in the dress and seeing the look on the faces of my family.
I wanted to ensure that the wedding captured us. The idea came from an old notebook (we both love to collect classic old pieces) and it started from there. It had a 'home-made' feel which allowed our day to have tradition, but not too much formality.