Morning people!! Did you have a nice weekend? I'm sure you did. It was an absolute stunner of a weekend here! We've realised that we get an awful lot of sun in this new house... which is a great thing considering our previous place we lost it very early in the day, but we'll have to do something about it as it's literally too hot to sit outside on days like we've just had and we don't have a lot of shade right now. And can you believe my husband is actually now wanting it to rain because it's good for all our new planting... he even said he might have to give up golf to look after the garden (
I think someone hit him over the head in the middle of the night!!
)
Today's board is for all you brides in the midst of planning a winter wedding. Whilst there is no snow in today's board the cool neutrals give off a definite wintery feel. There's no reason why you can't have an all white colour palette for a winter wedding, however it's probably best to use a winter white that is a little bit warmer than a bright white (I can just see my husband rolling his eyes at that... '
it's either white or it's not, there's no variation
'!!) But girls we all know there is right? If you wanted to use this palette, I would suggest bringing is some warm greys and browns in some of the decor to break it up a little. Also add in texture; a fur shawl or wrap is perfect for outdoor photos, throw in some glamour with cut glass to reflect light on duller winter days, and naturally candlelight, candlelight, candlelight as the evening sets in.
Check back in a little later to find out the winner of the
Christmas Card
giveaway...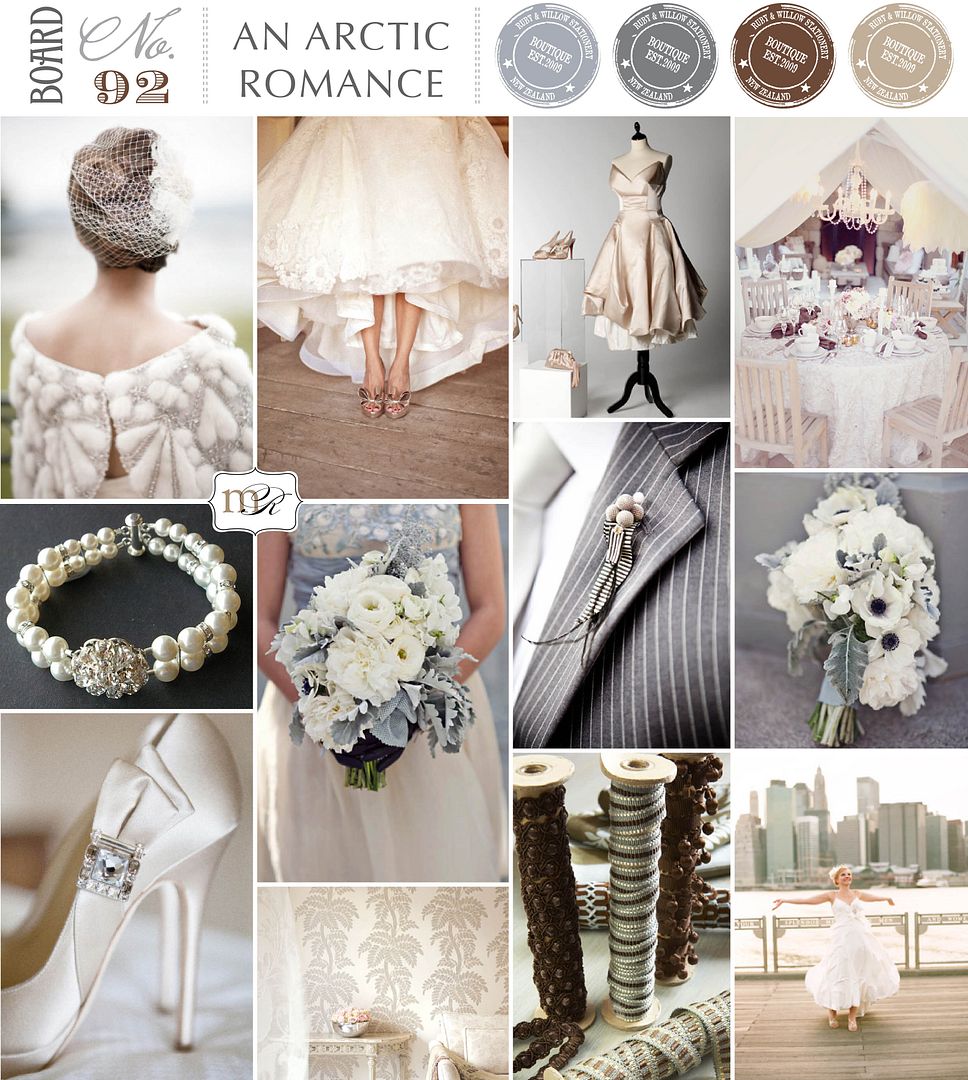 Photos from top left; Both Bride shots | Aaron Delesie, Dress on model | unknown, Tablesetting | Simply Bloom
2nd row; Pearl bracelet | unknown, Bouquet | by Heather Kincaid, Suit | Nikki Meyer, Bouquet | Heather Kincaid
3rd row; Shoes | Aaron Delesie, Room interior | unknown , Ribbon | Lara Robby, Bride | Shelley Kroeger