I realise this wish list is a little more than a standard 'please Santa I've been a good girl and I'd really appreciate it if you could just pop one or two of these wee items under the tree for me' request! And as much as I'd love to have even one of these lovely things, it's actually serving a greater purpose and helping me work out a few things on the home decor front. The problem I have is I could have about 5 different living rooms (make that houses!) all with completely different looks and love them all equally. I'm surprised at what's come together below to be honest... I think in parts it's simply what I found without taking too much time to dig, but I'm definitely on the lookout for a rug, that's on the priority list! I'm kinda surprised there's no green and so much red though.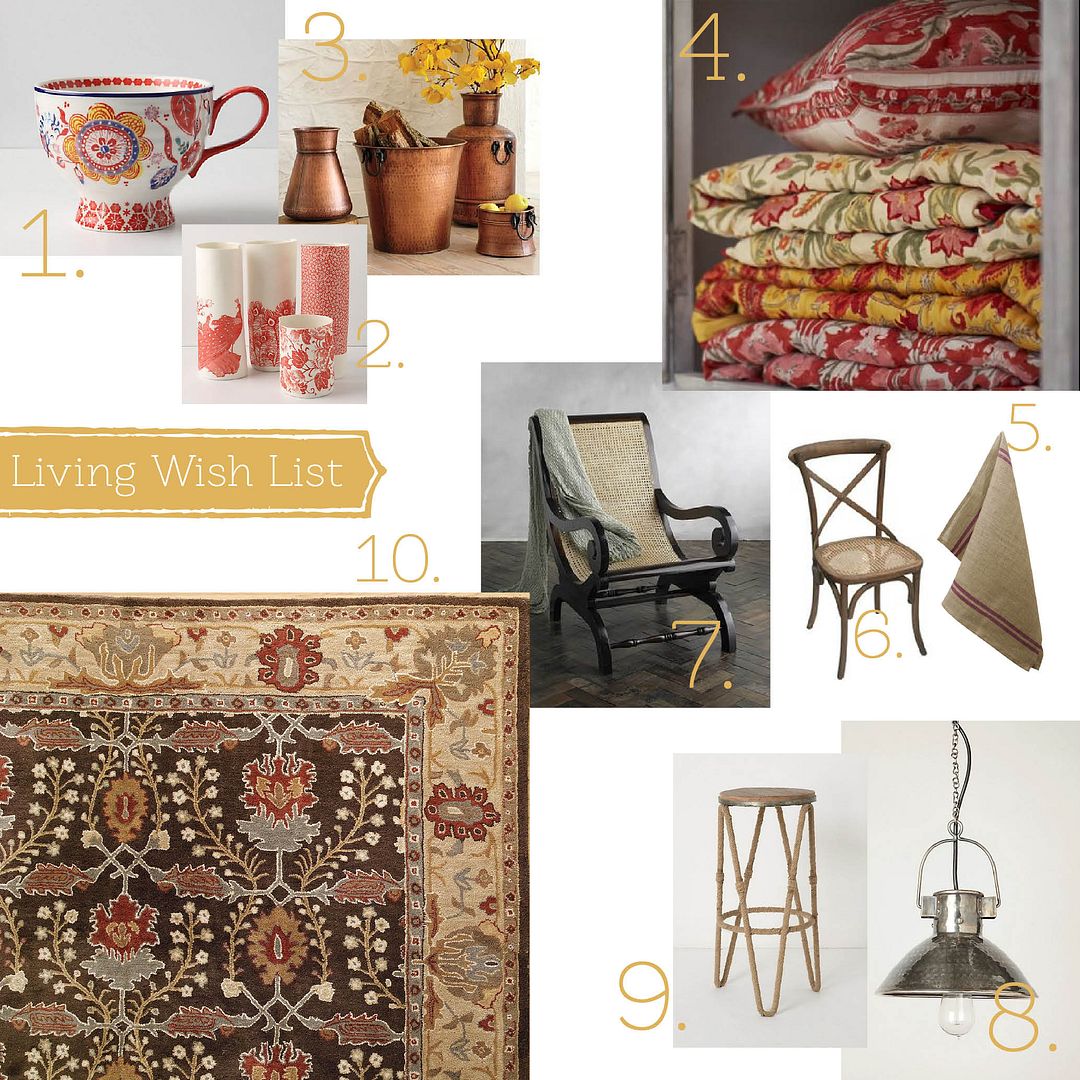 1. I love the
folk art design
on these gorgeous cups from... yep you guessed it - Anthropologie!
2. It's the mix of patterns on these
gorgeous vases
that appeals... oh and they come in green too!!
3. I have such a thing for copper right now, so would love a little collection of
interesting vessels
.
4. I'm not sure I could bring myself to use these gorgeous quilts, I'd just like them piled onto a beautiful dresser like this. From
French Country Collections
.
5. Lovely raw linen teatowels from
Wallace Cotton
6. These cafe style chairs from
French Country
would look lovely around the vintage dining table I have in my head!
7. I adore everything in the
Lombok
store in the UK and just love the shape of this chair.
8. I simply MUST have these
lights
over my bench top... LOVE them!!
9. Again - Anthro - the rope detail on these
stools
is gorgeous!
10.
Pottery Barn rug
... think it's going to be a long drawn out process to the find the perfect one!